This healthy sloppy joes recipe is one for the books! It can be challenging to find a recipe that is paleo, GAPS, gluten free, dairy free, whole30 AND tastes delicious but my friend, this one checks all the boxes! It is every bit delicious as it is healthy. We don't even like regular sloppy joes anymore after eating them this way.
Why you will love this recipe:
No preservatives! All of the ingredients in this recipe are whole foods. You can have great confidents in knowing exactly what is in this meal. No questionable ingredients we can't pronounce!
Compatible with many dietary restrictions. As mentioned above, this recipe is great to pull out when you are cooking for a group that can be tough to cook for.
Easy to make! You bake the potatoes, brown the meat, add the sauce and you have a tasty dinner for all. All of the steps in this recipe are simple and straight forward.
You can freeze it – You can double the recipe, freeze half in a freezer bag and have an extra dinner for one of those crazy days where you just don't have time to cook!
Tips:
Sides that go well with this meal are: homemade sauerkraut, pickles, cucumber tomato salad, green beans, a slice of bread or slaw.
Start this healthy sloppy joes recipe by getting the potatoes in the oven, that way you can work on the sauce and the meat while the potatoes bake.
When making this recipe I usually follow the 1 potato per person rule but if you have odd sized potatoes you might want to adjust the quantity. For example: if you have really small sweet potatoes, you might want to do two a person.
For a leftover freezer meal, double the recipe and store half in a freezer bag (or container of your choice) in the freezer. I like freezer bags because it makes it easy to get the food out and onto a tray to reheat. It's a great meal for a rainy day. Just reheat it in the oven and you have an effortless dinner.
Taste the sauce before you add it to the meat. You might want to adjust the recipe if you don't like the flavor. Sometimes I add a little chili powder if I want some extra spice.
Always use quality organic ingredients for the most nutritional benefits!
Ingredients:
Ground meat – We use ground beef or venison for this recipe but you could experiment and use ground turkey or pork if desired.
Sweet potatoes – peel and dice sweet potatoes to all be close to the same size.
Oil – I cook with lard or coconut oil because of their great health benefits. Any oil would work though.
Tomato paste – I use this tomato paste from Azure Standard and it is amazing!
Spices – garlic powder, onion powder, paprika, salt, and pepper, crushed red pepper.
Vinegar – I use balsamic vinegar, it gives the healthy sloppy joes this almost bbq like flavor. I have also used apple cider vinegar and been just as happy with the results.
Coconut aminos – Be sure to use authentic coconut aminos. Bottles that say "liquid aminos" often still have soy in them and that is not what we want.
Honey – I source my raw honey from a local farm. Any sweetener will do but honey gives the sauce a rich flavor that pairs well with the sweet potatoes.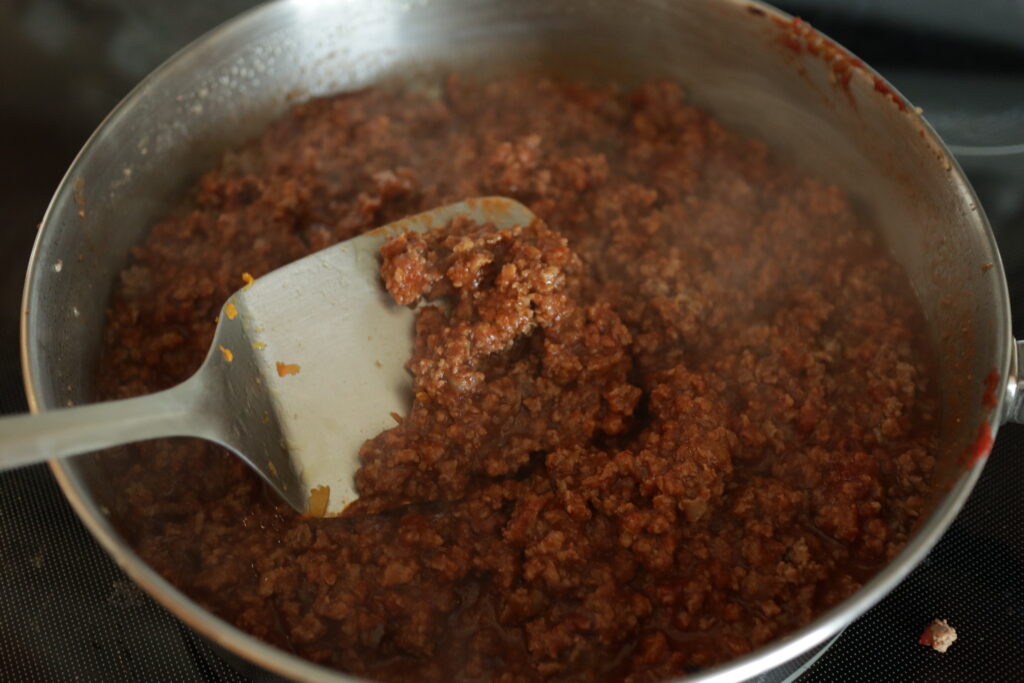 Instructions:
To make these delicious healthy sloppy joes start by preheating the oven to 425 degrees.
Next, peel and dice the sweet potatoes. I have seen people make this recipe with whole baked sweet potatoes but I honestly like them cubed better.
After the potatoes are ready, toss them in salt and oil then spread them on a baking sheet. Put them in the oven and bake for 30 min or until soft. Turn every 15 minutes until done.
While the potatoes are cooking, heat up a skillet add the meat and some salt to taste and cook until the meat is browned. As long as you have good quality meat, you do not need to drain it after it is done cooking.
Side note: to add a little flare you can dice up some onions and throw them in with the meat.
After the meat is on the stove you can begin mixing up the ingredients for the sloppy joe sauce. Add all the ingredients to a bowl and mix them together with a spatula or a spoon.
When the meat has finished cooking, remove it from the burner and add the sauce. Stir in the sauce until everything is well combined.
Remove the sweet potatoes from the oven and give them a few minutes to cool. That's it! You have made delicious and healthy sloppy joes for your whole family to enjoy!
You can enjoy this meal as a bowl or on a plate.
Try more recipes:
COMMENT below and let me know how your family likes this recipe!
Healthy Sloppy Joes
This healthy sloppy joes recipe is the perfect mix of sweet and salty. Each bite is packed with flavors that will make you never want regular sloppy joes again!
Print Recipe
Equipment
1 Skillet

1 Cutting board and knife

1 Spatula
Ingredients
Sloppy Joe Sauce
1

6oz can

tomato paste

4

tbsp

balsamic vinegar

3

tbsp

honey

1

tbsp

coconut aminos

1

tsp

garlic powder

1

tsp

onion powder

1/2

tsp

salt

1/2

tsp

paprika

1/4

tsp

crushed red pepper flakes

do not add if you do not want a little spice

1

dash

olive oil

1

dash

pepper
Main Dish Ingredients
4

sweet potatoes

cut into cubes

1

tbsp

oil

1

lbs

ground meat

1

tsp

salt
Instructions
Preheat oven to 425 degrees. While oven is preheating, peel and cube the sweet potatoes. Place sweet potatoes on a greased baking tray, sprinkle with salt and cook for 30 minutes turning halfway through.

Heat skillet on medium heat and brown the meat.

While meat and potatoes cook, add all the ingredients for the sauce into a mixing bowl and stir until well combined.

When the meat is browned, remove from burner and add sauce. Stir until everything is mixed evenly.

Remove sweet potatoes from oven.

Layer the bottom of a bowl with sweet potatoes and top with ground meat. Serve with a side of pickles, salad, or green beans. Enjoy!